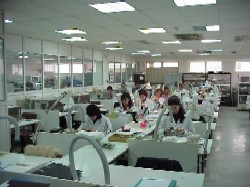 OPT HELLAS was established in 1980 and is located on the outskirts of metro Athens, Greece next to the new International Airport . Over the past 22 Years , OPT HELLAS , has developed a broad line of CUSTOM DESIGNED Frequency Control Products for various markets such as, Military, Avionics, Commercial, Wireless and Instrumentation.




OPT HELLAS is very well known Internationally for the ability to provide the Highest Quality CUSTOM DESIGNED Crystal Filters
(monolithic and discrete), LC Filters of all types , Cavity type filters , Duplexers, Diplexers and Coil assemblies.





Our general Capabilities are:

Monilithic Crystal Filters in all polynomials and package configuration from 4 Mhz to 120 Mhz with fractional Bandwidths 0.03 % to 0.3%.
Discrete Crystal Filters in all polynomials and package Configurations from 1.4 Mhz to 200 Mhz with fractional Bandwidths of 0.01% to 2 %.
LC filters filters of all types in all polynomial and package Configurations from 1.0 Khz to 3 000 Mhz with fractional Bandwidths of 2 % to more than 100 %.
Cavity type filters can be designed for Bandpass ,Bandreject and Duplexers for VHF and UHF applications.
Coil assemblies can be designed in Toroidal Coil assemblies Pot core assemblies and any other form of coil assemblies.

OPT HELLAS offers complete in-house capability for the production of our filters and coils assemblies. These capabilities benefit our customers as follows:


An Engineering team combines many years of experience in developing the most cost effective solution for the application of each of our customers.
Strick in house design procedures , material selection , manufacturing procedures and automatic Testing procedures provide our customers with the highest Quality and reliability products.
In house manufacturing of crystals , coils and filter packages provide precise control of all critical specified parameters.
Our total in House capability enables OPT HELLAS to reduce delivery times for prototypes and production needs.
Our Quality assurance procedures are in compliance with the ISO-9001 procedures.
In our business , the key to success is our experienced , dedicated personel. All people working at OPT HELLAS have at least 15 years of experience in designing and manufacturing of all our products. All new specifications are computer modeled with our proprietary software.

In reviewing the information on this web site , if you don't find what you are looking for, please contact us . The majority of our business is custom designed and standard filters with improved characteristics such as stringent group delay , ripple and/or Intermodulation specifications .